We are rapidly expanding this gallery to give our customers some examples or inspiration for their roofing projects. We offer a range of services across Wakefield and the surrounding areas for both flat and pitched roofing, also including fitting skylights, repointing and guttering. Please do not hesitate to get in touch if you would like to see more examples of our work.
Permaroof
2020-03-11T09:36:35+00:00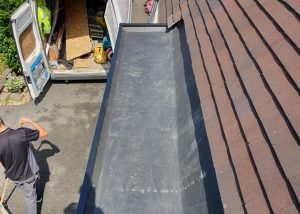 Greetland Porch Flat Roofing A view from above the new porch, from our Greetland porch flat roofing project.
If you'd like any further information about us please visit our official Permaroof UK Certified Installer page, or to see our latest work why not follow our Facebook page.
For more information about PermaFinance please click here.
All aspects of roofing carried out from minor repairs to full replacement including timber replacement and treatment. Delaying roofing repairs is likely to damage your property, with a risk of damaging structural elements of your home as well as risking the contents to damage from the elements. Contact us today for a no obligation quotation. To see a list of our featured services please click here.