Permaroof Wakefield's sizzling August free gutterbrush offer can help you get your guttering ready for the autumn and your roof ready for winter and avoid clogged gutters.  We're giving away a GutterBrush to every EPDM roof customer during the whole of August to help keep your gutters clear and water flowing through.
Summer is the best time of the year for getting flat roofing checked and repaired. Regular checks are always a good idea, as leaving an old roof to chance can prove to be an expensive mistake if it fails unexpectedly. Damp patches are always a giveaway and instances of ponding water after rain on the roof is another big pointer. We can come and have a look if you're concerned, but not sure what to look for or think there may be a potential issue with your roof. Sometimes a good repair is all that is needed.
Minimising damage from clogged gutters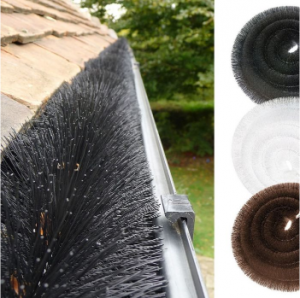 Gutter clearing is a job that no one looks forward to. Some prefer to pay for professional gutter clearing but over time it can be costly. It is important though, to keep gutters clear, as leaves and other small debris can build up fast and overflowing gutters cause damage to both roof decks and to interiors.
We first met the GutterBrush a few years ago. It's a simple idea that keeps gutters clear of leaves by not allowing them to enter. It consists of a series of polyurethane bristles wound round a central stainless steel core – bottle-brush-style. This fits in gutters and is secured using wires at each end if need be. Other lengths of Gutterbrush can be added in the same way. Rainwater falls through the filaments and drains away as usual.
How Permaroof Wakefield can help you
Here at Permaroof Wakefield, we're a friendly team of professional, experienced flat roofers. We cover all of Wakefield and the surrounding areas, including Castleford, Normanton and Pontefract. We like our customers to be fully assured in our services and provide a free insurance-backed guarantee thorough our Permaroof Licence. Rest assured, your roofs are in safe hands. Get the job done right first time and guaranteed with Permaroof Wakefield.
We've got a brand new range of finance packages to help spread the cost of flat roofing for our customers. Why not talk to us about your roofing? If we install your project in August, you can claim your free Gutterbrush.
Call us on 01924 664994 today.